Language

Shopping Cart

(

0

)
AppleCare Protection Plan dla 16" MacBook Pro (M2)
The loyalty program is only available for logged in customers.
The quantity in the package

1 opak

Shipping within

24 hours

Shipping price

The Lack Of

The Availability Of

150

opak

The Weight Of The

0.15 kg
Zamówienie telefoniczne: 577 665 543
Description

Reviews & ratings (0)
Serwis i pomoc od ludzi, którzy najlepiej znają Twojego Maca.
Ponieważ Apple tworzy sprzęt, systemy operacyjne i liczne aplikacje, nasi eksperci wiedzą doskonale, jak te elementy współpracują ze sobą, i potrafią rozwiązać większość problemów w trakcie jednej rozmowy.
Rejestracja Maca w AppleCare Protection Plan jest możliwa wyłącznie w momencie złożenia zamówienia w okresie co najmniej 7 dni przed upływem obowiązywania Rocznej Ograniczonej Gwarancji Producenta.
Czas oczekiwania na aktywacje AppleCare Protection Plan może potrwać do 2 tygodni od daty zakupu.
Do zakupu licencji niezbędne jest podanie poniższych danych urządzenia:
numer seryjny urządzenia

e-mail
Dodatkowo, jeżeli inne niż dane zamawiającego:
• imię i nazwisko / nazwa firmy
• adres
• numer kontaktowy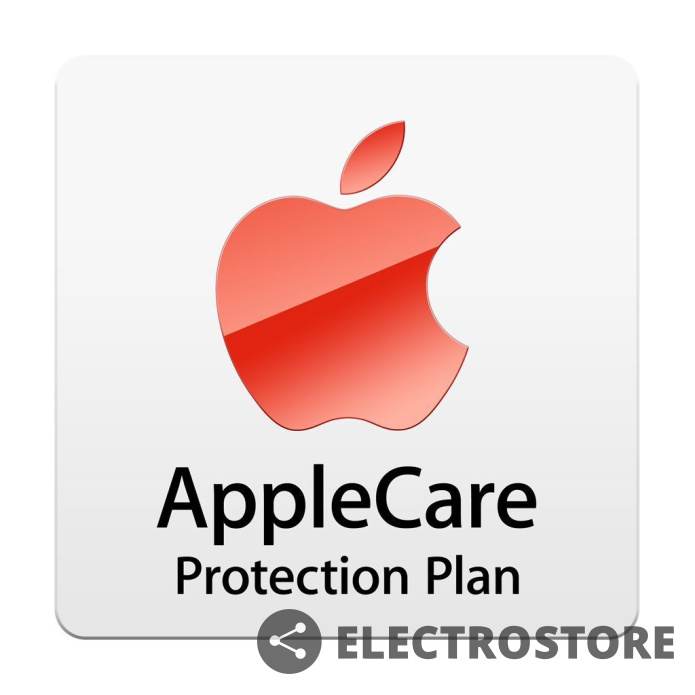 3 lata spokojnej głowy. Tyle zyskasz, wykupując AppleCare Protection Plan dla Maca.
W ramach planu ochrony AppleCare Protection Plan dla Maca Apple zapewnia nawet trzyletni okres fachowego wsparcia technicznego oraz dodatkowe opcje serwisu sprzętowego1.
Po zakupie planu ochrony AppleCare Protection Plan w trakcie jednej rozmowy telefonicznej2 dostaniesz odpowiedzi na pytania dotyczące Maca, systemu macOS, aplikacji Apple takich jak Zdjęcia, iMovie, GarageBand, Pages, Numbers oraz Keynote i nie tylko. A podczas podróży możesz korzystać z obsługi serwisowej w lokalnych punktach naprawy na całym świecie.
Świadczenia z tytułu planu ochrony AppleCare Protection Plan stanowią dodatek do prawa konsumenta do bezpłatnej naprawy, wymiany, obniżenia ceny lub zwrotu zapłaconej kwoty przez sprzedawcę, jeśli w momencie dostawy towar nie był zgodny z zawartą umową sprzedaży. Zgodnie z polskim Kodeksem cywilnym konsument może zgłaszać roszczenia z tego tytułu przez dwa lata od dostawy towaru. Kliknij tutaj, żeby dowiedzieć się więcej.
Wsparcie pod jednym adresem
Ponieważ Apple projektuje zarówno komputer, system operacyjny, jak i wiele aplikacji, Mac jest w pełni zintegrowanym systemem. I tylko plan ochrony AppleCare Protection Plan zapewni Ci kompleksowy serwis oraz wsparcie ekspertów Apple, pozwalając na rozwiązanie większości problemów w trakcie jednej rozmowy telefonicznej.
Priorytetowy dostęp do ekspertów Apple na czacie lub przez telefon
Dostęp do lokalnych punktów naprawy Apple na całym świecie

3
Dodatkowe opcje serwisu sprzętowe­go
Plan ochrony AppleCare Protection Plan zapewnia nawet trzyletnie opcje dodatkowego serwisu sprzętowego, w tym części zamienne i naprawy sprzętu wykonywane przez autoryzowanych serwisantów Apple na całym świecie.
Planem objęte są:
Twój Komputer Mac
Bateria

1

Dołączone akcesoria, np. zasilacz
Pamięci (RAM) firmy Apple
Napęd Apple SuperDrive USB
Serwis baterii, jeśli jej pojemność spadnie poniżej 80% pojemności fabrycznej
Wsparcie w korzystaniu z oprogramo­wania
Czy jesteś w domu, w biurze, czy w podróży, zawsze możesz zwrócić się bezpośrednio do ekspertów Apple z pytaniami na różne tematy, np:
Korzystanie z systemu macOS oraz iCloud
Sposób wykonywania określonych czynności w aplikacjach Apple, takich jak Zdjęcia, iMovie, GarageBand, Pages, Numbers, Keynote oraz aplikacjach profesjonalnych, m.in. Final Cut Pro i Logic Pro
Nawiązywanie połączeń z drukarkami i sieciami bezprzewodowymi
Bezpośredni dostęp do ekspertów Apple, którzy udzielają wsparcia dotyczącego systemu macOS i innego oprogramowania
Jak kupić
Plan ochrony AppleCare Protection Plan możesz kupić razem z nowym komputerem Mac.
Albo osobno, przed upływem 12 miesięcy od zakupu Maca:
Plan ochrony AppleCare Protection Plan można kupić do następujących modeli Maca:
MacBook
MacBook Air
13-calowy MacBook Pro
14-calowy MacBook Pro
15-calowy MacBook Pro
16-calowy MacBook Pro
iMac
iMac Pro
Mac mini
Mac Pro
There is currently no comments or ratings for this product.